Poetry by Krystyna Lenkowska
http://prishtinapress.info/poetry-by-krystyna-lenkowska/
A chosen selection of poems by Bujar Plloshtani, written by the well known polish writer, Krystyna Lenkowska. Krystyna Lenkowska is a Polish poet, translator, and editor. She has published 7 collections of poetry. Her poems in English have appeared in Boulevard, Chelsea, and Confrontation.
Poems by: Krystyna Lenkowska
Translated by: Ewa Hryniewicz-Yarbrough, Janusz Zalewski and John Guzlowski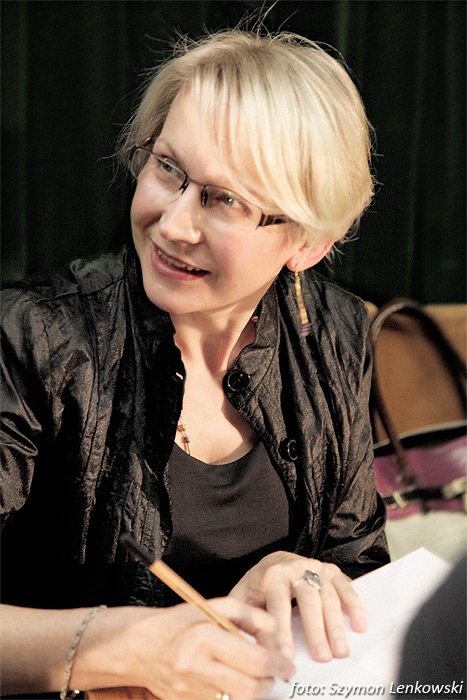 Krystyna Lenkowska
A Man Wearing a Cap
A man wearing a cap
slowly killed a goose.
He held it between
his legs as if it were
a tongue-lashed
child or a woman
who'd drunk
hemlock and then
been forced to vomit.
A cat sensually
watched
the ritual.
Nearby people
busy with life
were passing.
Only the sound of the forest
and my heart
could be heard.
The silence of that picture
hit me
in the face.
Oh, well.
The millennium goose, the cat, and us.
All cannon
fodder.
The Fifth One
Every moment I kill one tender thought as if it were a persistent fly.
But it wants only to live.
I imagined love like a gigantic fruit fly.
I wonder who would then be the first to die the unnatural death:
I, it, or this fruit of paradise.
Translated by Ewa Hryniewicz-Yarbrough
Love
It gets up first and bustles in my head
arranges images and the sequence of emotions
steps aside
tries to walk softly as if it's never existed.
I don't touch it mornings
that's our agreement and I wait
for it to wash away in the monotony of memory
in the disloyalty of time.
I wait so at last I won't have to wait
all day long.
Evening comes and what's next my dear Lao Tzu?
Here I stutter and confound the audience
those squinting eyes of a chinese cat.
Always at the same place in the dusk
I cross over to the other side of the word beyond the image.
The idea of self-eclipse doesn't exist there.
There's an entry into light one period of time
and love's trusting unhumiliated face
at the level of our eyes and lips.
Translated by Ewa Hryniewicz-Yarbrough
Ode to Snow
Ryszard Kapuściński died today
You fall like everything else on this planet
you come from silence
from where we also come
you rest against freezing time and hard earth
deer leave traces over you
a dog sinks in you up to its ears with such obviousness
in his eyes as if he had understood
in Slocina in the Carpathian foothills you're the same
as in Turkish Kars
Herodot's legend
geometry on glass
black ice on the road
our fragile bodies crash
in your glazed splendor
under you love death and trash
lightly patted over
fragments of rockets from Baykonur drop on your head
while you unshakable equilibrist lie
supine in the Altai mountains
my white idealist.
Translated by Ewa Hryniewicz-Yarbrough